Style Rider aims to document the world's most stylish motorcycle riders, be they riders of classic, custom or cafe racer steeds. Focused on the intersection of motorcycle culture with individual style, here we speak to TV motorsport presenter Kate Peck about riding in the Himalayas and switching between worlds of moto and red carpet events.
Name: Kate Peck
Residence: Sydney, Australia
Occupation: Channel 10 Motorsport reporter 
Instagram: @katepeckme
Today's ride: KTM Duke 790
Describe your style: I asked my partner; he said 'Valentino covered in moto mud.' I switch between the worlds of moto and red carpet, on-camera events, so I am equally comfortable in Louboutin's or MotoX boots. I think the dire realm of women's moto gear has permanently scared me from pink and diamontes. It's hard to be well protected and look good as a female on a motorcycle. I do enjoy Saint CC Dyneema denim. This is a style-safe moto option.
Favourite item: My chrome Vozz helmet; a strapless helmet. You heard it right. NO STRAP. It clips open and onto your noggin, hugging it like a nutshell. A groundbreaking, revolutionary invention created on my doorstep, right here in Sydney, Australia.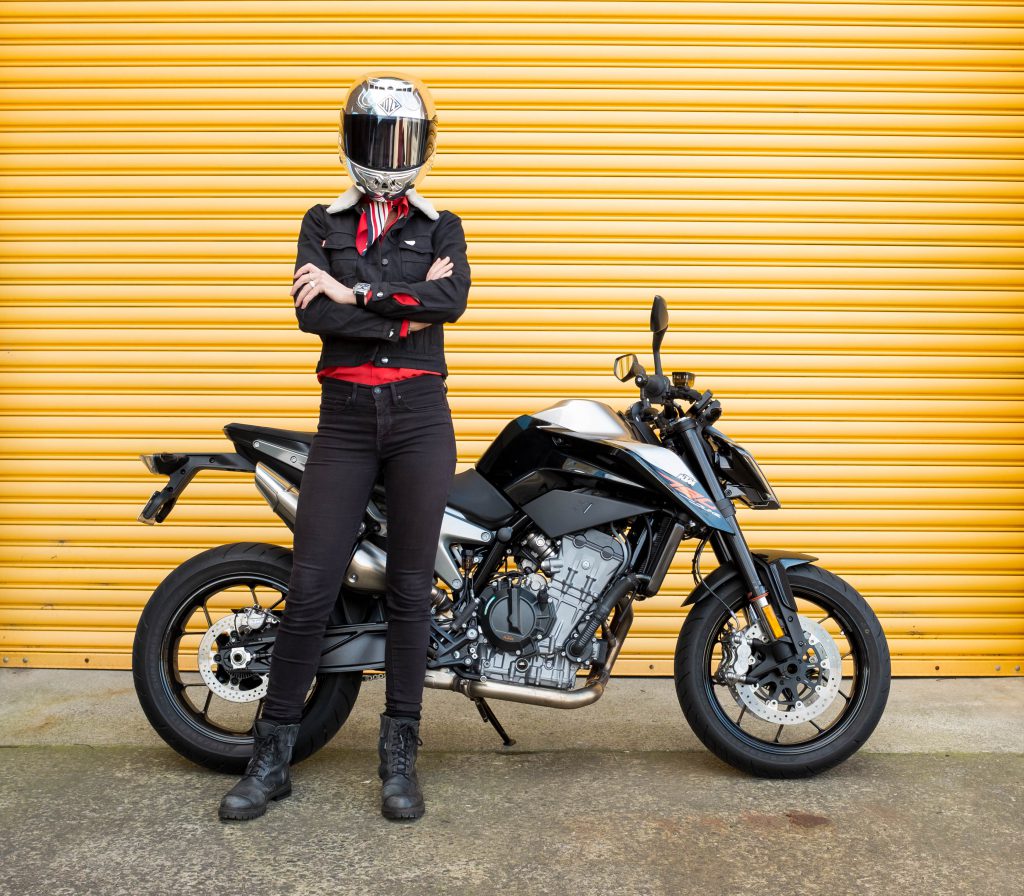 Next purchase: Moto sunnies. A pair of SKRAMs. Protection for your eyeballs. It makes so much sense! Our eyeballs don't get much attention when planning our moto gear setup. But without our peepers, things get tricky on two wheels.
Style inspiration: Amelia Earhart. I'm somewhat named after her; my middle name is Amelia after her. My Dad was a pilot. And now I'm an adventurer! So with those powers combined, I think there's a small sprinkle of A. Earhart in there somewhere. I love the androgynous aviation look. It's practical, fierce and encapsulates lots of loves in my life: freedom, female empowerment and fashion.
Best local ride: The Oxley Highway. A twisty delight between Walcha and Port Macquarie in NSW.
Best distance ride: Ladakh India. The high Himalayas. I took a Royal Enfield Himalayan up over the three highest motorable passes on the planet. It was epic.
Tip for stylish motorcycle riding: A good scarf never goes out of style. 
Next motorcycle trip: Mongolia.
Why do you like riding? If you could physically define the sensation of being alive, riding a motorbike is how you'd explain it. You feel so untouchable yet so close to death. There's something remarkably raw and pure and almost existential about that feeling.