Style Rider aims to document the world's most stylish motorcycle riders, be they riders of classic, custom or cafe racer steeds. Focused on the intersection of motorcycle culture with individual style, here we caught up with Creative Director Paul Taboure riding his customised 2004 Vespa PX200.
Name: Paul Taboure
Residence: Sydney, Australia
Occupation: Creative Director & Founder THERE
Instagram: @Puffdiddly
Today's ride: 2004 Vespa PX200 customised with chromed side panels, black-painted wheels, performance exhaust and a low profile racing seat. I ride this daily to work and will never part with it. On the weekend, I enjoy putt-putting around Sydney's inner west, hanging out and taking it easy. Breakfast at Two Chaps, coffee at Double Roasters, bread from Ruby Lonesome and veggies from Addison Road market. Simple pleasures made better by riding.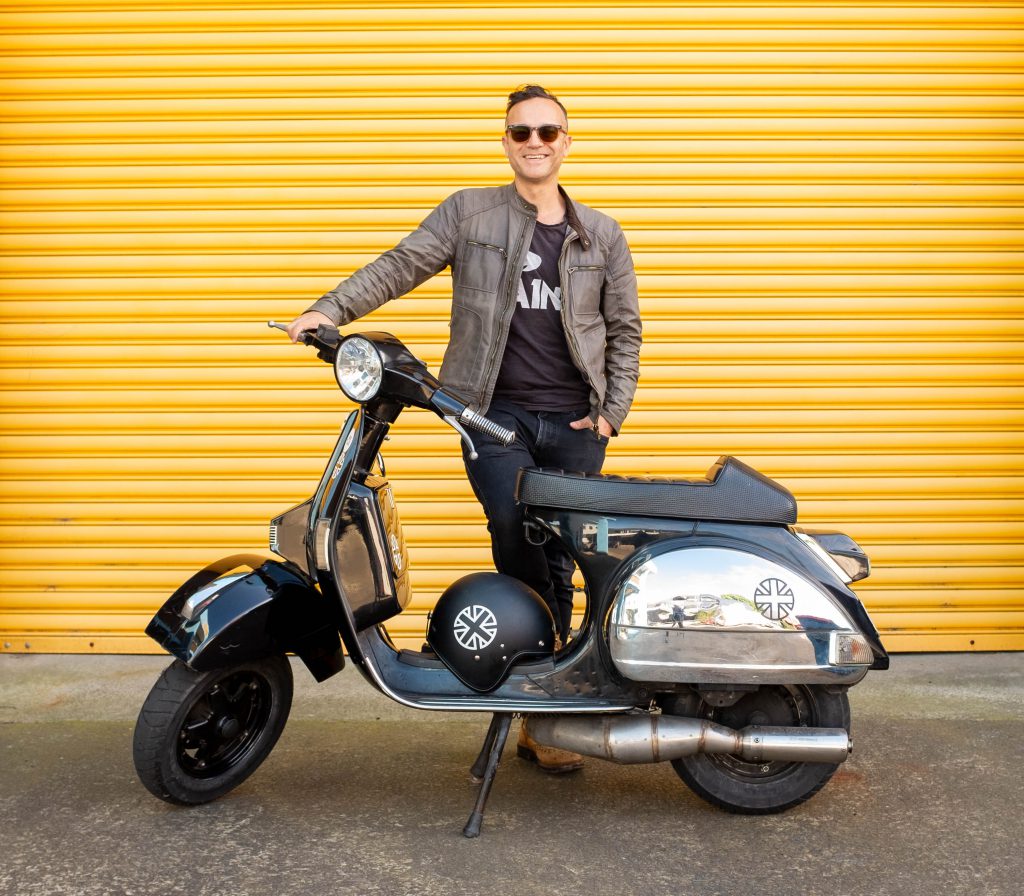 Describe your style: London street-style. Originally from London, I love functional yet cool attire that suits an urban lifestyle. My clothes are just as comfortable in a London-style boozer, as when working on one of my bikes in the garage.
Favourite items: My Grenson boots. Made by one of Britain's most established cobblers. And, my Belstaff jackets. Each one is unique; each one conjures up film nostalgia from the bygone era.
Next purchase: Saint Denim jacket with removable collars for summer rides. And, a Mission Workshop bag from San Francisco.
Style inspiration: Be yourself and own it.
Best local ride: Inner West to the Watson Bay Hotel at sunset. Nothing beats the horizontal vistas you see when cruising down into the bay. I love rides where there is a prize waiting for you at the other end, be it a coffee or a nice cold beer.
Best distance ride: Sydney to Tasmania on my BMW R1200 GS with mates. The west coast of Tasmania is just simply WOW. Best trip ever.
Tip for stylish motorcycling: Keep it simple, but with a twist of customisation.
Next motorcycle trip: Enduro riding in the state forest at Belanglo. Exploring, getting lost whilst finding myself. Longer-term, I would like to ride to Kathmandu in Nepal.
Why do you like riding? As a kid, I was always riding a BMX or a skateboard. I love the immediate sense of freedom that being on wheels provides. Today, when I ride I feel life's shackles unchain for a moment, riding makes me feel free to explore wherever the wind blows.