Style Rider aims to document the world's most stylish motorcycle riders, be they riders of classic, custom or cafe racer steeds. Focused on the intersection of motorcycle culture with individual style, here we speak to Lauren 'Wren' Maher about riding a heavily modified Triumph T100 Bonneville and the winding roads of the New Forrest.
Name: Lauren Maher
Residence: Sydney, Australia
Occupation: Multi Media Marketer
Instagram: @wreckitwren
Today's ride: Triumph T100 Bonneville 2009. The bike has been heavily modified to become a scrambler. Bar some upcoming cosmetic changes, this bike is almost complete. The bike rocks fully adjustable Gazi rear shocks in the rear and progressive springs up front. 17" aluminium rims front and back wrapped in Pirelli Angel GT tyres. Power commander V for smother EFi throttle response. The exhaust are British Customs predators. JW Speaker LED driving light, Bark Busters to shield the short levers and SW Mototech crash bars.
Describe your style: Monochromatic with a pop of colour. My style has varied wildly over the years but I have always found myself back to tailored cuts with a pop of personality. When it comes to riding, I show this through my glove and goggle choice. A lot of riding gear leans towards either black or tan so I've find this is the easiest and most effective place to show my personality on the road.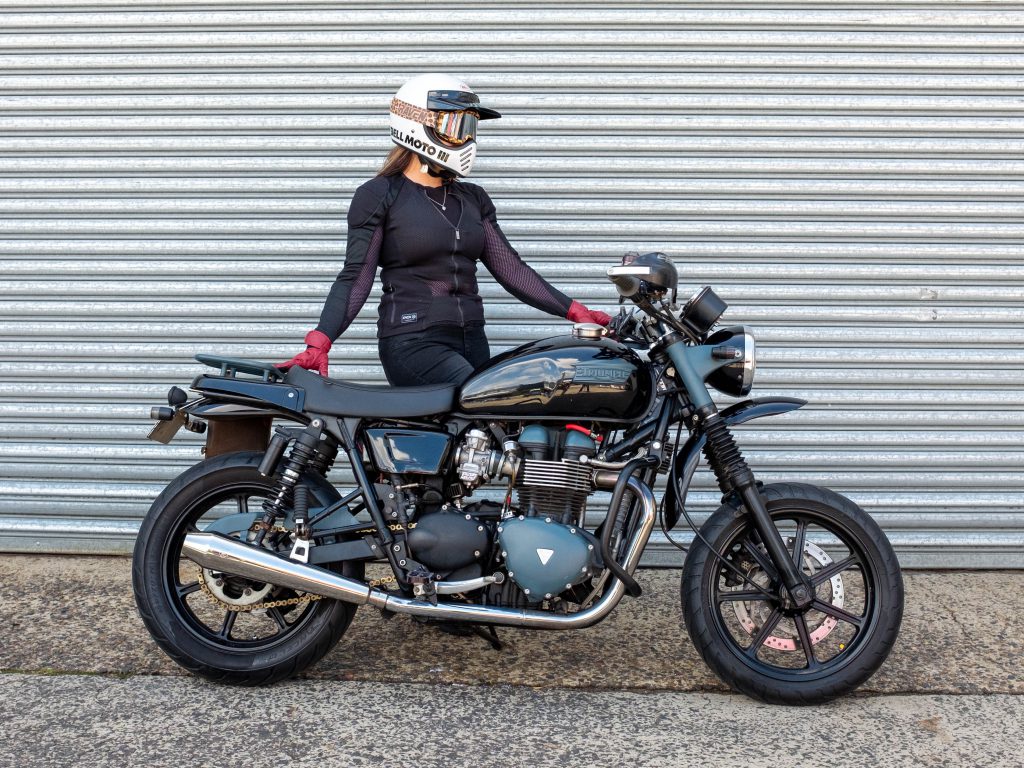 Favourite items: My Bell Moto helmet has such a beautiful silohuette and hits all classic scrambler points I like.
Next purchase: I am on the hunt for the perfect leather jacket. To find something tailored and form fitting, but still functional for long rides.
Best local ride: I'm originally from the UK so consider The New Forest my local ride. I know the back roads there like palm of my hand and have taken lots of riders for tours through it. It's such a dynamic landscape and is home to wild horses, red deer and miniatures. You can go from huge red wood forest planted by past Kings to sandy flatlands.
Best distance ride: New Zealand; Christchurch to Greymouth via Arthur's Pass. Every turn is either jaw dropping mountains, lakes or rivers paired in with the twisties we love riding mountains for. It has to be one of the best rides on earth.
Tip for stylish motorcycling: Keep it practical. Riding with inappropriate gear does not look good.
Dream riding kit: A Hedon racer helmet, Knox underarmour paired with a Boda Skins leather jacket and a wax look riding jean.
Next motorcycle trip: If the borders allow, I plan to ride down to Melbourne as I have never been. I also want to attempt riding the true outback just to see what it's like!
Why do you like riding? It is an activity where you just listen to your engine, the wind flying by and you find yourself thinking only about the ride. Any worries or anxieties are put on hold while you're out on a bike. I also find riding to be a huge confidence booster. I feel powerful when riding my bike which then carries on to how I feel in day to day life.