Style Rider aims to document the world's most stylish motorcycle riders, be they riders of classic, custom or cafe racer steeds. Focused on the intersection of motorcycle culture with individual style, here we speak to Alex Ripa about riding a 1940s motorcycle and wearing period-correct clothes.
Name: Alex Ripa
Residence: Providence, Rhode Island, USA
Occupation: Fencing Coach, but I earned a Bachelor of Fine Arts in photography – a lifelong passion – and I work quite a bit with that.
Instagram: @alexanderleaving
Today's ride: 1941 Harley-Davidson WL
Describe your style: I prefer fashions of the USA of the '30s and '40s, particularly workwear. However, I'm a punk rock child of the '80s, so that sometimes comes through whether I like it or not!
Favourite items: John Lofgren Combat Boots, The Real McCoys Buco J31, Eastman G-1, Pike Brothers 1932 Roadster Jacket, Belafonte Ragtime Clothing Brown Chambray Shirt and linen Peaky Cap. 
Next purchase: Clothes-wise, I'd love to get into a jacket from Freewheelers; I just love their stuff. I'm also mid-project, though, on a Triumph chopper and would like to get that moving again. Sadly, the pandemic put the brakes on quite a few things for all of us!
Style inspiration: I really enjoy looking up historical photographs, particularly of early American motorcyclists, and then trying to re-create their style as closely as I can. I think it's very cool to feel what it was like to wear what they wore and to see the actual colours! WWII, and the period of the '40s just after that in the USA, is a fascination of mine also. They really took their clothing, and styling, seriously!
Best local ride: It's tough to beat The Ocean Drive in Newport, RI, near where I grew up. From the splendour of the mansions to the craggy coastline, it's a short ride, but it packs a punch! I ride it regularly and am always blown away by all those incredible curves.
Best distance ride: I went to the Pacific Northwest of the USA once and covered quite a bit of distance out there on a bike. One day, the road I was on out in the forest ran alongside train tracks, and I remember racing side-by-side with a fast locomotive for miles, up and down hills and around curves. It was a gorgeous ride of lush greens and rain showers; I'll never forget it.
Tip for stylish motorcycle riding: Good quality things always stand out, so I'd say it's worth trying to hold out for good stuff; especially since the right pieces are quite versatile. 
Next motorcycle trip: Lately I've been exploring Cape Cod, trying to follow in the footsteps of some artists I really admire. Once the pandemic slows down, I'd really like to ride motorcycles in Ireland. 
Why do you like riding? I guess I seem to do my best thinking on the bike, and I feel calm and connected to the world in a way that's hard to experience without a motorcycle. I feel like there are big things to learn when you ride. It also restores your faith in humanity. I ride mostly solo, but I love it when people stop to look at my bike and tell me all about theirs. All our differences seem to fade away when we discuss this shared passion. I love seeing their enthusiasm.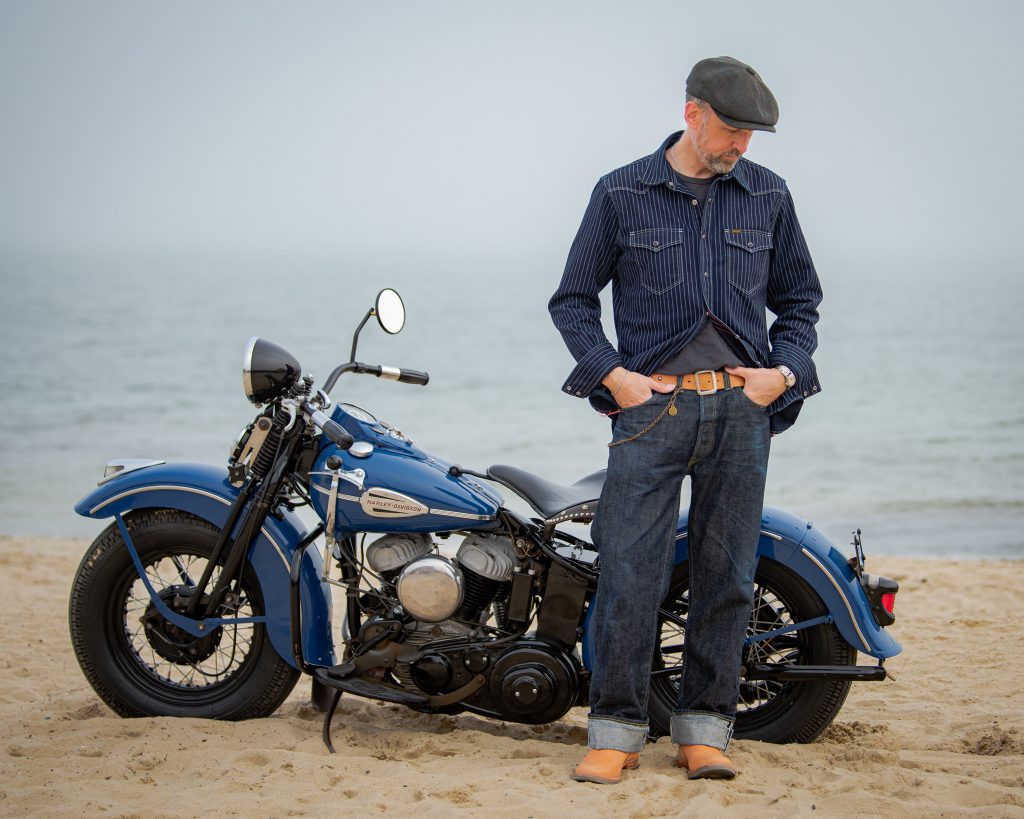 Photo credit: all photos were supplied by Alex Ripa due to Covid19 lockdown. If you are interested in contributing to Style Rider, get in touch at dennis@thebetterlivingindex.com.