Style Rider aims to document the world's most stylish motorcycle riders, be they riders of classic, custom or cafe racer steeds. Focused on the intersection of motorcycle culture with individual style, here we speak to Deus ex Machina founder Dare Jennings about old leathers, the Tokyo bike scene and the addictive nature of motorcycle riding.
Name: Dare Jennings
Residence: Sydney, Australia
Occupation: Founder, Deus ex Machina
Instagram: @deushouse
Today's ride: BMW R1200GS Rallye
Describe your style: Over the years, I just developed my own take on motorcycle style. I never wanted to be part of the motorcycle gang nor embrace that look. Both my grandfather and father were horse people, yet I did not like horses. So my father bought a Honda ag bike in the 1960s for the farm, and I never got off it. In high school, I read Hunter S Thompson's Hells Angels book and was utterly fascinated. I had never even seen a Harley until I saw a guy ride down the street in Griffith on a badly customised bike. I was infatuated and had to buy it.
The bike, a WLA, was hopeless. I rode it to Sydney to go to University and fixed it as I went. Miraculously it did not kill me. I just loved motorcycles. They were so cool. Yet I was disappointed at the average style of the regular biker. I could not see why you could not make cool bike clothes. My whole world has been in indie pursuits; music, coffee, surfing, and this is what I wanted to bring to motorcycles. I wanted it to be accessible to people, more inclusive. Personally, I wear casual clothes, a mix of surfing and motorcycle influences. I hate things that are prescribed. So many cliques have strict rules. I like people who are open to an idea.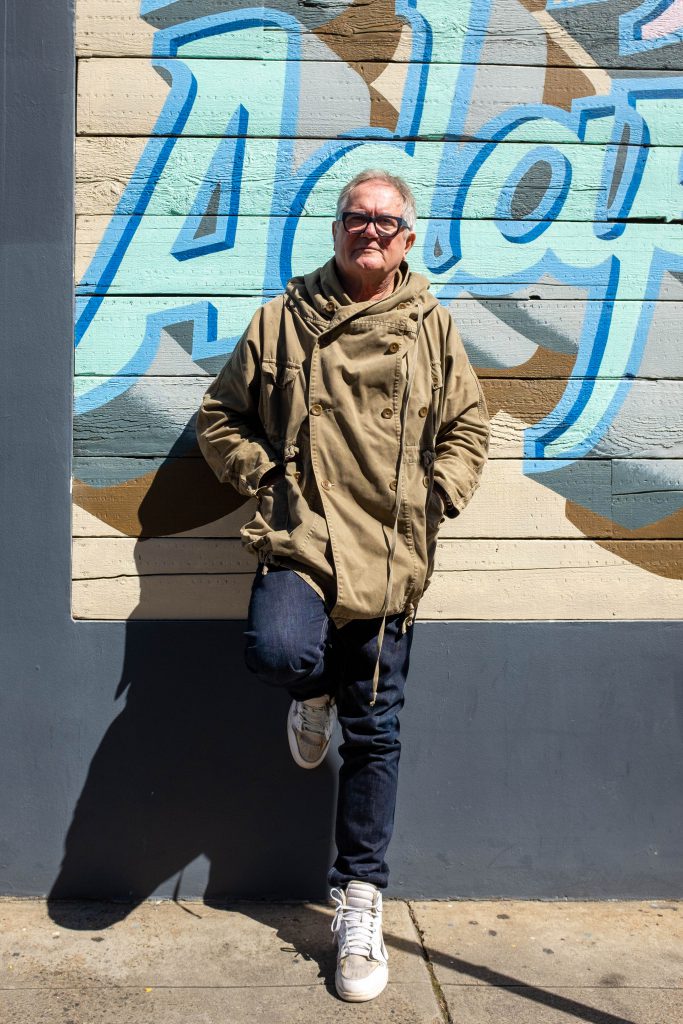 Favourite item: Old racing leathers. I love the bent shape of used leathers. Also, I love it when I meet people who have one bike and have owned it for a long time, looking after it and keeping it running.
Next purchase: Addict Leathers in Tokyo are obsessed with British motorcycles between the wars. They make great leather jackets and I will be buying another one.
Style inspiration: As a kid, I watched the speedway guys. They looked so romantic in their leathers. I like the functionality of motorcycle-based things. Ones that look good, yet also work out in the elements.
Best local ride: Up the Buckets and Thunderbolts Way to Walcha.
Best distance ride: Armidale to Grafton. This is my favourite place to ride—a perfect mix of winding roads, sub-tropical climate and very little traffic.
Tip for stylish motorcycling: Good stylish gloves. Go elegant, and don't be a tough guy.
Ideal cold weather riding kit: I was riding to Canberra a few years back in a smart leather jacket, and I was freezing. I stopped into BMW and bought a more technical type of jacket. While it's not as stylish, it works, and I enjoyed the rest of the trip because of it.
Next motorcycle trip: Sydney to Brisbane via the back roads to see The Motorcycle; Design, Art, Desire Exhibition at GAGOMA. 20 years ago The Guggenheim held a hugely successful exhibition, The Art of The Motorcycle attracting a broad audience of motorcycle obsessives and regular riders. When we started Deus, we had the exhibition book and were obsessed with it. The original curators have been invited by GAGOMA and have included one of Deus' motorcycles, The Drover's dog. I want to ride there.
Why do you like riding? Its just second nature. It is addictive. The day I have to give up motorcycles will be a bad day. It's strange, I cannot imagine not riding a motorcycle, and yet so many people do not consider owning a motorcycle due to either danger or inconvenience. This is a mistake as you miss out on one of life's greatest pleasures.