Style Rider aims to document the world's most stylish motorcycle riders, be they riders of classic, custom or cafe racer steeds. Focused on the intersection of motorcycle culture with individual style, here we speak to Cellist and style rider Netty about adding a feminine flair to motorcycle riding.
Name: Netty
Residence: Melbourne, Australia
Occupation: Cellist
Instagram: @adventuresofnetty
Today's ride: Suzuki Tu250x
Describe your style: I have fun playing with different styles. I work with a lot with denim on denim and a classic leather jacket; all the while adding my own feminine flair. The range for petite female riders can be quite limiting, although stores including Nevermind motorcycles in Geelong and MotoEst in Collingwood, both stock stylish wear. I also notice what other riders are wearing and order online. One of these riders is 'Moto Doll' who runs her own clothing and accessories range.
Favourite items: The staples of my riding wardrobe are Saint and Ugly Bros jeans, a Walden Miller leather jacket, a Blackbird jacket for the cooler months, Falco' Misty' boots, Grifter gloves lovingly painted by Nina Goode and a Roland Sans Design Bell Bullitt helmet to set off the retro look.
Next purchase: I'm saving my pennies for a Triumph Street Twin. Even stock, these bikes look terrific and offer so many customisations options.
Style inspiration: I get my inspiration and keep up to date through Instagram; no one account in particular.
Best local rides: The 350-kilometre each-way ride from Melbourne to Bright and Falls Creek. As a new rider, it was while going through the twisties on the mountain that something clicked. I relaxed into each curve, grinning in my helmet, and looking forward to the next hairpin turn. Even more local is the round trip to Kinglake through Toolangi forest, past Healesville and back home. It's a good ride I can do, even on the way home from work; it just means I am three hours late, haha.
Best distance ride: Tasmania from Hobart along twisting roads into Queenstown, on to Cradle Mountain and back down the flat plains to Hobart. Every route was stunning, with rainforests, grey rocky mountains and flat mirror lakes.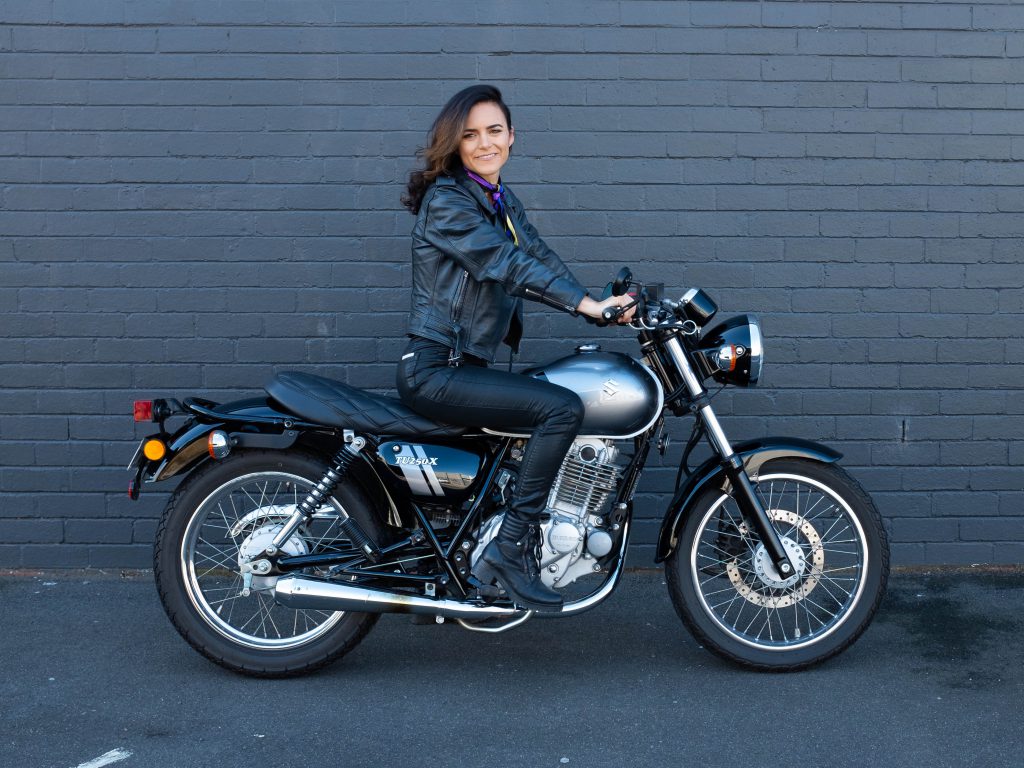 Next motorcycle trip: The Great Ocean Road and Reefton are both on the list. The latter for the challenging twisty roads and the Great Ocean Road for the beautiful scenery.
Why do you like riding? Riding is a great challenge. Even though I rode as a child, I was quite nervous beginning to ride as an adult. Being a Cellist, I have a strong sense of self-preservation for my line of work. However, I made it my goal to get my full license and then decide if riding was for me. By that point, I was addicted. I love overcoming the challenge and becoming a better rider, being able to tackle more exciting roads and go to new places. I've also discovered an awesome community of people I have been able to meet through riding. This part was unexpected, and one of the main reasons I love to ride now. Some of my best friends I have now are through the Kustom Kommune and The Leatherettes. Pictured below with partner, Jason Lau.