Style Rider aims to document the world's most stylish motorcycle riders, be they riders of classic, custom or cafe racer steeds. Focused on the intersection of motorcycle culture with individual style, here we speak to Rob Rossi, vintage motorcycle racer and MV Agusta collector.
Name: Roberto 'Rob' Rossi
Residence: Wollongong, Australia
Occupation: Financial Controller, Rossi Simicic Lawyers and vintage motorcycle racer. I race old Honda GP's in the Post Classic Racing Association, taking 2nd in the P5 125 class at age 58.
Instagram: @rossi.rob
Today's ride: 1946 MV Agusta M.V. 98 with a hidden electronic ignition made by a German firm. This 3.5 horsepower motorcycle was manufactured from 1946 to 1949. and is the 32nd bike to come off the MV Agusta production line. It was to be called the 'Vespa'; however, the name had to be changed as Piaggio registered the name only two weeks earlier.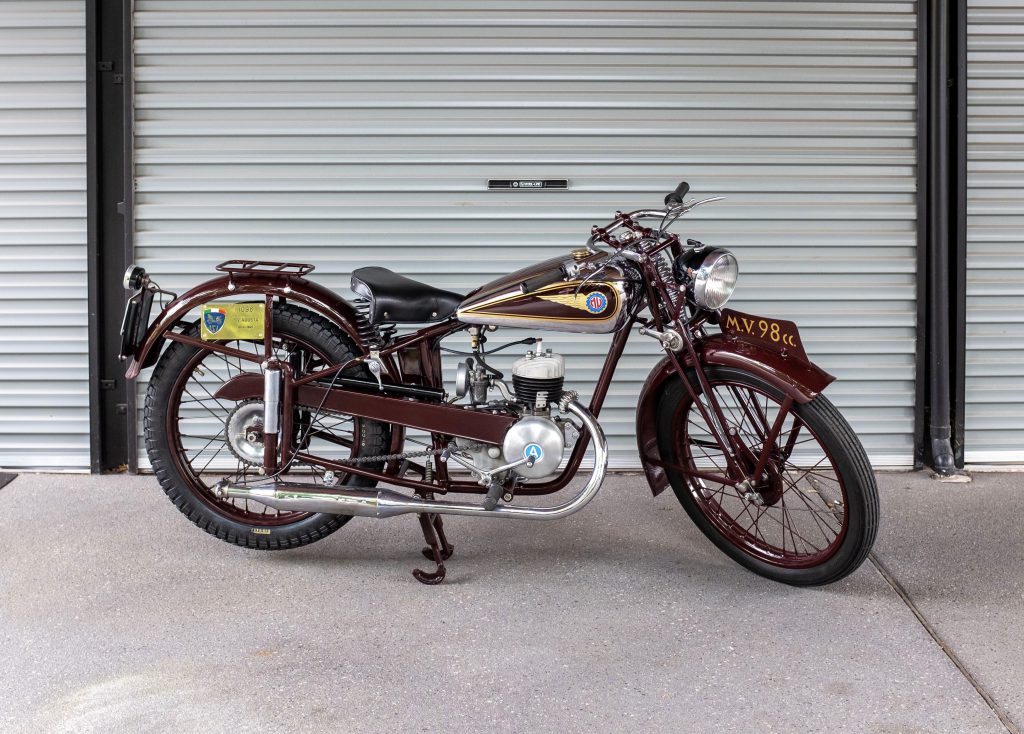 Describe your style: Tailored and distinctive. I like patterned jackets or shirts and wear these with solid colour trousers to anchor the outfit. Ben Sherman and Jack London are my staple brands, with mod Paul Weller providing sartorial inspiration.
Favourite items: If you asked me to pick my MV Agusta in ten seconds, I would be dead (Rob has a museum-grade collection from every period of the marque). At this moment, the 1977 MV 750 America Sport (acquiring this in Italy was a dream come true), 1974 350c Sport (the only motorcycle by car designer Giorgetto Giugiaro responsible for the Maserati Ghibli, Ferrari 250 GT SWB Bertone and Alfa Romeo Brera), and 1954 MV 175cs Disco Volante.
Next purchase: Another MV Agusta as the collection is geared in a certain way with a model from each decade in the one, two, three and four-cylinder variations.
Style icon/inspiration: 15 times World Champion and MV Agusta racer, Giacomo Agostini. This man brought sexy to motorcycles along the way to 122 Grand Prix wins.
Best local ride: Woollongong to Mount Keira.
Best distance ride: I'm not interested in highway riding and will usually trailer the bike to the Mornington Peninsula, and then ride the Great Ocean Road. The car for this road trip is a 1966 Lincoln Continental, the last of the suicide door models.
Tip for stylish motorcycle riding: Find your own way. Don't follow the crowd. I will wear anything from a full race suit and full-face helmet to vintage gear; open face helmet with goggles, old boots and a leather jacket. The bike dictates the style, and I always wear protective clothing. Dress for the crash, not the ride.
Next trip: Costa Rica and Columbia.
Why do you like riding? I love riding my collection of MV Agustas. It's a way of time travelling. When I ride this 3.5 horsepower 1946 M.V. 98, dressed in gear representative of the era, it is a different riding experience. On another occasion, I will get on the 2005 F4 superbike, and that feels supersonic in comparison. All forms of riding are enjoyable.
Style Rider book to be published in 2020: To register for pre-orders, email dennis@thebetterlivingindex.com, and we will notify you of pricing as the book approaches publication.