One April afternoon, friends both with shiny new KTM Adventures—purpose built off road motorcycles—sent a WhatsApp message; 'who's in for a three days of off road riding in the NSW Snowy Mountains and Victorian High Country?' My answer with a small amount of trepidation due to my road-going BMW F700GS having neither the suspension or tyres, was 'yes, when?'.
A route was planned that would take in both the NSW Snowy Mountains and Victorian high country, with three days of winding mountain roads, plenty of gravel and that distinctive orange dirt that turns to treacherous mud with the smallest application of water. Good times ahead.
The first order of business was to blast down the freeway from Sydney to Yass as quickly as possible, arriving around 11am for breakfast at Trader & Co. This cafe is a consistently excellent, serving a turmeric latte (delicious and caffeine feee as I'm off coffee again) and a bacon & egg roll before we set off for Wee Jasper and the start of the weekends riding adventures.
The tarmac road out of Yass is smooth and fast with nice bends and good views over the lake. There is a poem by Jane Baker installed outside Wee Jasper for the enjoyment of travellers. It is a charming addition to a lovely Australian landscape. It is then a further ten minutes down the hill to Wee Jaspers' wooden bridge where we stopped to take photographs.
The purpose of this trip was to give my fellow riders Steve and Roman a chance to test out their KTM Adventures in the mountains on the dirt roads and fire trails. This began outside Wee Jasper with a 100 kilometres of dirt road to Tumut. The road that goes left at the fork in the road after the bridge is more enjoyable than the Google Maps directed route to the right; although beware the signs that make it clear this route is impassable in the wet. The trail comprised great riding conditions with early rocky sections giving way to smooth, orange dirt roads through the forest.
Arriving far too early for dinner at the Commercial Hotel, we rode out of Tumut to Blowering Reservoir. This is around fifteen kilometres out of town and offers smooth tarmac roads, magnificent views over the water and if you're lucky as we were, an Emu sighting.
Returning to the Commercial Hotel in Tumut, we checked in to find each room had an ensuite, a rare feature in country pubs. Later downstairs, we ate a delicious dinner in the pubs' Thai restaurant before retiring early for the day ahead. Below is a reflection of the pub interior.
The following morning, we awoke early and walked around the town. Pink and grey galahs, mid-century housing and a breakfast at The Coffee Pedlar set us up for the ride to Omeo via fire trails and gravel roads. The smooth bitumen was quickly replaced by forest trails as we progressed into difficult terrain with rocky sections making spills a real danger on my BMWs' road tyres. Fortunately, we all stayed upright through this section with the going becoming easier as we ventured further into the forrest. The area's forrest roads are a mixture of smooth graded dirt surfaces—an absolute joy to ride on—and hard packed gravel.
The day was going well with perfect terrain for an adventure bike. The group felt confident as we delved deeper into the forest, joining a narrow fire trail that took us underneath the areas' power lines. This undulating ground took us through farm land and onto slippery red mud tracks. A few near spills in the mud and puddles—I was covered in muddy water after forging one that ended up being deeper than it looked—we made it through the forest before rejoining the gravel roads and onto the tarmac to find lunch.
After a forgettable lunch in a small town pub, it was off towards Omeo for 200 kilometres of twisting gravel roads. In these conditions, the tyres on my BMW showed their limitations. Road tyres on hard packed dirt roads with a centimetre of gravel are difficult to ride when the front wheel looses all traction in the corners. Adopting a method of riding by placing my weight on the pegs, I was able to continue (often down to 20-40kmh) until the road conditions improved. The last section to Omeo was a fast gravel road and a joy to ride.
After a big day of riding in the mountains, we celebrated our success at the Hilltop Hotel, a thriving establishment with a stag mounted in the bar and excellent food from the kitchen. This topped of a good day of riding before retiring early once again for the day ahead to Mount Hotham and the autumn leaves of Bright.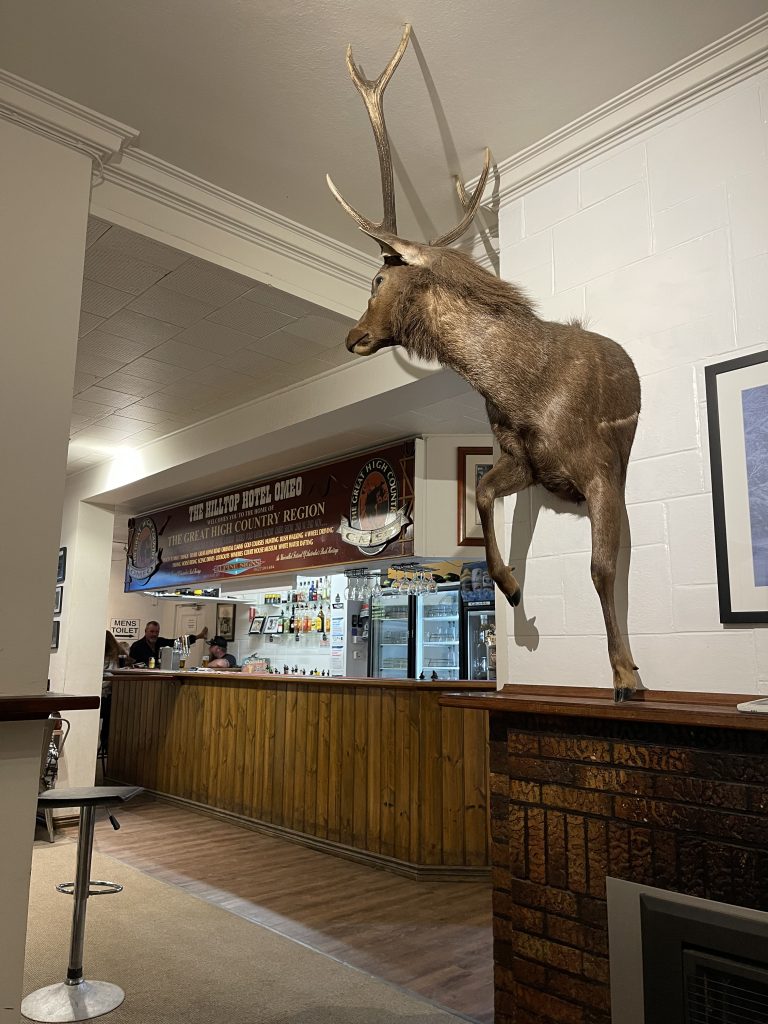 Day three broke with four degree temperatures and Omeo sitting in heavy cloud. I find photographs of cloud or mist never depict just how limited the visibility was. We pulled on all our warmest gear and headed to the Crazy Cow Bakery for breakfast and petrol next door. While in the bakery, a local told us that only five kilometres up the hill awaited blazing sunshine awaited us.
This proved to be true. On the way up the mountain towards Hotham, the clouds disappeared, replaced this glorious sunshine. The image below is from the lookout with Omeo below enshrouded in cloud.
At this point the other riders headed north along a mountain ridge and I made my way towards Hotham followed by Bright. The road to Hotham starts with fast sweeping bends, although on the other side of the mountain, it is all 30kph turns on the way down to Harrietville with concentration essential.
Riding down into Harrietville was a treat with the autumn leaves ablaze in the sunshine. This feast for the eyes continued into Bright where the town had a long weekend festive atmosphere. The river area of Bright is a good place to rest up before continuing onwards towards Daylesford.
This mountain ride was a experience, full of camaraderie, smooth tarmac mountain roads, difficult off road riding and the sense of adventure you get when you push yourself beyond your comfort zone. Every time I hear my internal monologue complaining that I do not have the right gear—off road tyres, suspension, etc—I flash back to watching a smiling 12 year old girl on a recent motorcycle trip to Vietnam forging a river one handed on a scooter, waving at us. It is not the gear that matters, rather the willingness to go.