Style Rider aims to document the world's most stylish motorcycle riders, be they riders of classic, custom or cafe racer steeds. Focused on the intersection of motorcycle culture with individual style, here we speak to Andrew Sanchez, Brand Executive and Mutt motorcycle rider about stylish city riding.
Name: Andrew Sanchez
Residence: Alexandria, Sydney Australia
Occupation: Brand Executive at Hotel Group
Instagram: @lifeof_sanchez
Today's ride: Mutt Motorcycles' The Hilts in grey. Powered by a remake of Suzuki's bulletproof 250cc engine, Mutt Motorcycles built this bike to pay homage to Steve McQueen's character and his Triumph. It looks terrific with its knobbly tires, grey paint and tan leather seat.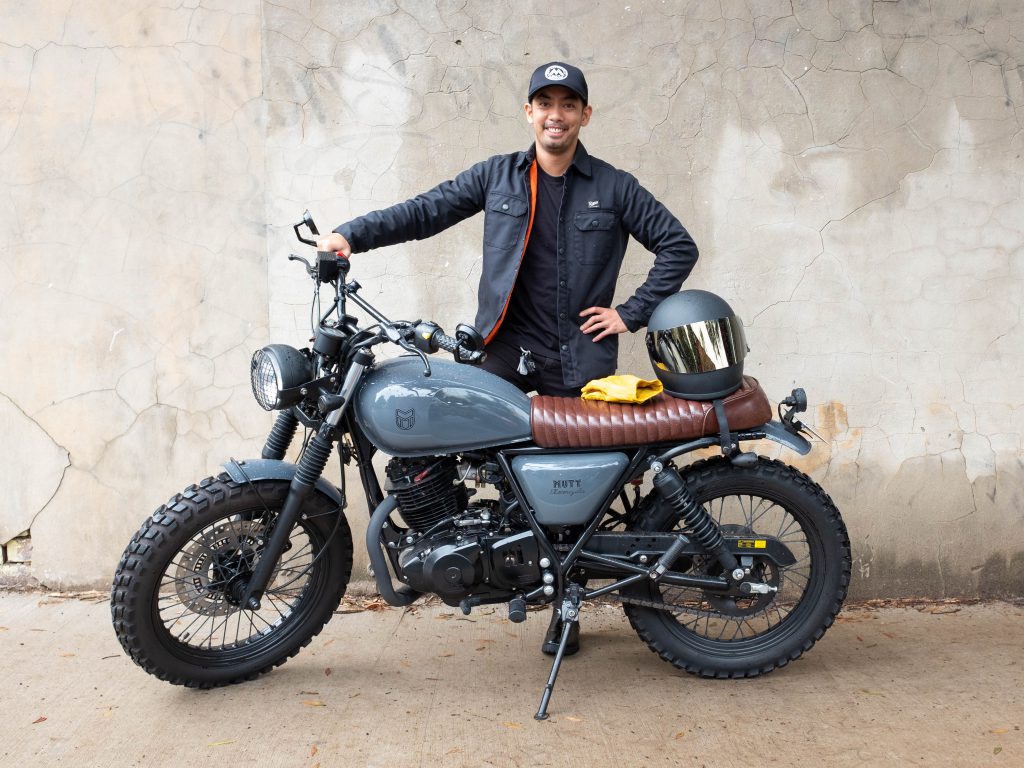 Describe your style: On weekends, I'd say urban with skinny black jeans, leather boots and a bomber jacket. Weekdays I'm more corporate, regularly riding to work in a suit.
Favourite items: Hands down my phone. It's my all in one navigation, source of information, communications, camera, drivers licence and wallet.
Next purchase: Triumph Street Scrambler in British racing green.
Style icon/inspiration: David Beckham. Always impeccable with his clothing choices. Plus, he loves motorcycles.
Best local ride: Anywhere by the coast. I can easily access the Eastern Suburbs beaches, so when I have spare time, I'll usually beach hop, exploring cafes I haven't been to.
Best distance ride: Unfortunately, I haven't done any distance riding. I've only had the Mutt for a few weeks.
Tip for stylish motorcycle riding: Always carry a hat for when you get off the bike to hide that helmet hair! Also, yellow rigging gloves look great with an all-black ensemble and they only cost $15.
Next motorcycle trip: Ride with a handful of mates up the Old Pacific Highway, past Newcastle and finish up at Port Macquarie on the North Coast of NSW.
Why do you like riding? There are two main reasons why I love riding. The first is the practicality. I like how quickly you can get to places and find parking. The second is how it makes you feel. Fascinatingly, it can make you feel both alive and de-stress you at the same time.