After our disappointing walkthrough Takeshita Street (see part one), we visited motorcycle/workwear brands Freewheelers, Gladhand Core, Lewis Leathers and Radiall, along with several superior vintage stores in Harajuku. It was here that I realised while I like the idea of vintage clothing, in reality, I choose to make my own vintage clothes by buying quality goods that last.
After a rest, we explored nearby Akaska. Desperate for vegetables, we ate salads, steamed greens and some unimpressive salted bonito which the restaurant claimed was a speciality. Akaska undoubtedly has some excellent restaurants; however, it feels full of tourist trap venues. Utterly forgettable, we left vowing to be more considered in our dining choices.
Next morning, we set off for Tsutaya Roppongi. I had read that this bookstore was a big success and was interested to see what they were doing differently. Arriving at the store, you are immediately struck by the abundance of natural light, the beautiful merchandising and integrated cafe. All of this encourages you to linger and buy, something other bookstores should take note of. The afternoon was spent shooting stylish motorcycle riders for my book, Style Rider.
That night we headed to Maru Bengara in Shibuya. The streets are packed with people, neon, skyscrapers and overhead roads running between the buildings. This is the picture many people have in their heads of Tokyo. We sat at the bar overseeing the preparation of our food by the talented chefs. Leaving the selection to them, we ate seven small courses, each beautifully presented. 
Waking to uninterrupted views of Mount Fuji, we breakfasted once again in the hotel. Seated next to a senior Australian Army officer on one side, and a well known Italian fashion industry insider on the other, the Capitol Hotel Tokyu was the place to be that morning. We set off early to visit the Top Museum (Tokyo Photographic Art Museum) to see its two exhibitions. The works were interesting, and I deeply respected the Japanese female photographer Eiko Yamazawa for her work and views on equality. The other show featured the 'cave' as both a literal and metaphoric theme. 
Next, it was time to visit menswear brand Haversack with their quirky take on modern tailoring. I really wanted to buy from this brand as they are doing something quite special and unique. However, I had to accept that as attractive as the clothes were, most were unsuitable to my age, work and lifestyle. Putting this aside, I settled happily into the fact that I have my own style, wearing the new indigo dyed vest purchased in our first day in Tokyo. On this trip, I came to accept being middle-aged. 
Keen to try a modern tea experience, we once again boarded the subway bound for the Sakurai Japanese Tea Experience. This was an enjoyable and very Japanese experience. The room was modern in design yet used traditional materials including copper, wood, ceramic, leather and steel. The effect was a modern room yet one that felt in harmony with the traditions of Japan. The food flavours were subtle so as not to detract from the tea. This subtlety is something I only experience in Japan. Where else can a bowl of rice with a few pickles, sesame seeds and salt be a satisfying meal?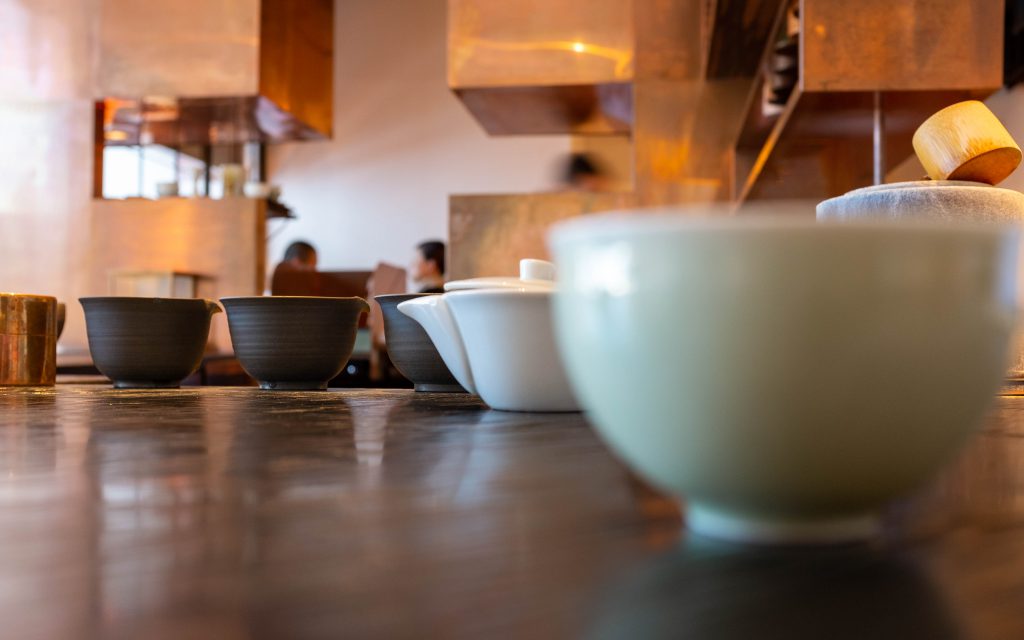 Dinner was at soba noodle restaurant Kurosawa. We visited Kurosawa on a previous trip, and it was once again worth the visit. Named after the Japanese film director and famous for their soba noodles, the single best dish of the trip, the sliced steak with wasabi and soy sauce, was eaten here.
Waking to cloudy skies, Mount Fuji lay hidden from our view. Today was the day we would lunch at the three Michelin starred sushi restaurant Sukiyabashi Jiro. This was one of the most highly anticipated elements of our trip to Tokyo. On our last visit four years ago, the then 89-year-old chef was serving sushi alongside his son, and we wondered if he would be there on this occasion.
Relaxing in the hotel during the morning, we set off along the Ginza line. Dressing up for the occasion—Jiro has a dress code—, we made our way with ten minutes to spare; in Japan, a few minutes late is considered the height of rudeness. Waiting for the restaurant to open, we met a man from Peru who would be our dining companion throughout the twenty courses of sushi. 
This time it was Jiro's son who was in charge. The first dish of Flat Fish arrived with its vinegary flavoured rice. This was followed by Squid, Striped Jack, Tuna, Semi Fatty Tuna, Fatty Tuna, Gizzard Shard, Ark Shell, Jack Mackerel (a favourite) and Boiled Prawn (also excellent) and we were halfway through the twenty courses in around 15 minutes. 
The next ten pieces followed in rapid succession with Needle Fish, Clam Shell, Bonito, Mantis Shrimp, Mackerel, Sea Urchin, Baby Scallops, Salmon Roe, Sea Eel and Egg. To finish, we were directed to a low table for the green melon and tea that acts as a palette cleanser. This was the best melon we have ever tasted. In Japan, the fruit is revered for its freshness and often given as a gift. When you eat something this delicious, you begin to understand why. More on our trip in part three.